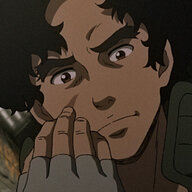 your newest internet obsession
Roleplay Department Administrator
Sep 18, 2015
2,424
Identity

They/Them

|::| OPENING MESSAGE BOX... |::|
|::| YOU HAVE [ONE] NEW MESSAGE! |::|
TO: RESISTANCE OF THE WEST COAST
FROM: WEST COAST JOINT COMMAND
TOPIC: OPERATION CHRONO
ATTENTION!
​
OPERATION CHRONO WILL BEGIN ON THE 18TH OF THIS MONTH. THIS IS OUR LAST OPPORTUNITY TO WIN THE WAR AGAINST THE MACHINES.

EVERY ABLE-BODIED MAN AND WOMAN WILL BE NEEDED AT THE FRONT LINE. FROM THE BLISTERING
MOJAVE DESERT
TO THE BLIZZARDS OF
NORTHERN CANADA
, ALL FORCES WILL BE FORMING THE LARGEST DISPLAY OF MILITARY PROWESS THIS WORLD HAS EVER SEEN.

WE WILL NOT LIE TO YOU: THE POTENTIAL FOR THIS TO END POORLY IS OVERWHELMING. THE POTENTIAL FOR THE GREATEST LOSS-OF-LIFE EVENT SINCE JUDGEMENT DAY ITSELF IS EVEN MORE OVERWHELMING.
LOSSES OF MANPOWER AND EQUIPMENT ARE ESTIMATED TO BE AROUND 80%
, AND EXPECTED TO GO POTENTIALLY HIGHER. THIS IS AN ESSENTIAL SACRIFICE WE ALL MUST BE WILLING TO MAKE.

THE ATTACK ON THE
COLORADO DEFENSE GRID
WILL INITIATE ON THE
18TH OF DECEMBER, 2029
. WE WILL PUSH THROUGH THE FIRST LAYER OF THEIR DEFENSE GRID IN THE LATE EVENING AND ATTEMPT TO QUICKLY ENCIRCLE AND OVERWHELM THE MIDDLE LAYER WITH A SURPRISE ATTACK. MOST OF OUR LOSSES ARE EXPECTED WHEN WE REACH THE

FINAL LAYER

OF THE DEFENSE GRID WHICH SHOULD BE REACHED
BY THE END OF THE 19TH
AT THE ABSOLUTE LATEST. FAILURE TO ACHIEVE THESE OBJECTIVES IN A TIMELY ORDER WILL DETERIORATE OUR CHANCES OF VICTORY.

THE FINAL LAYER OF SKYNET'S DEFENSE IN COLORADO BE LIKE NOTHING WE HAVE EVER SEEN BEFORE. SCOUTS REPORT COLOSSAL DRONE PLATFORMS ALONGSIDE THE MOST ADVANCED MACHINES OF OUR TIME. FOR THIS, WE WILL BE BRINGING OUT EVERY SINGLE STOCKPILE OF EQUIPMENT THAT EXISTS ON THE WEST COAST. IT WILL BE NEEDED. WE MUST DESTROY THEM HERE.
WILL YOU DO YOUR PART?
|:: CLOSING MESSAGE BOX... |::|
|::| GOODBYE! |::|
​
This is the official ending of our Terminator Roleplay server which will be taking place from the 18th to the 20th, though the server will be open starting from the 16th until the 22nd in order to allow people to roleplay without an immediate deadline approaching. It's been a very long journey and we're going to give this the best send-off we possibly can by doing what TRP's known best for: the most explosive battles someone could ask for on this game.
Yes, this is a timeskip of TWO YEARS TOTAL, the event lining up with the actual Operation Chrono that occurred in Terminator's lore.
A separate thread for a comprehensive timeline as to what's happened in the last two years of the world will be posted soon.
-but otherwise, a TL;DR can be found right here on this thread:
Over the course of two years, SkyNET beat humanity back to the point of no-return on all fronts.
Pacific Command's bases at sea and in continental America were nuked in mid-2029, explosions triggered by T-888 infiltrators that laid in wait for years.
The current year is 2029. This event chain takes place two years after where we left off.
Right now, your character is located a few miles out from the first layer of SkyNET's defensive lines guarding the Cheyenne Mountain Complex. They would know that this is truly the last stand humanity has - no backup plans or altering of the current plans will help the odds. Your objective is to destroy SkyNET's core.
The Resistance has mostly grouped up into a single massive blob for the sole purpose of completing this mission, stacking together their entire stockpiles of gear and manpower. Though tensions are high with some groups, all are working together.
Your character has most likely suffered awful conditions the past two years, even worse than 2025-2027. Even Command sections of the various groups struggle to get three meals a day. Food and ammo shortages have been extremely common and technological development has been stunted since a second Fresno infiltrator attack in late 2027.
Most of British Columbia and parts of Alberta have been very loosely united under a group by the name of 'Polaris', ex-members of the Northern Republic who no longer follow their ideology. Most of you would want to stay as far away as humanly possible from these people but you've been told to work with them, albeit begrudgingly, because this operation depends on human unity.
A SkyNET chemical attack in Bootstrap, Oregon destroyed the caravans and sent refugees flocking in every which way.
'Project Wishmaker' is something that's been heavily referenced in recently discovered SkyNET documents, but any info pertinent to actually discovering what it is is too encrypted for Charlie squad engineers to crack.
John Connor is alive. He is most likely your leader, if you like to follow the most survivable man on planet Earth. You probably should try and keep him alive, too.
FAQ!
Q
: Did Dave okay this?
A
: Yes, he did.
Q
: Will my character have all their gear still?
A
: Yes. Nothing about your character's inventory will be different, though depending on how your character might react to what's happened over the last two years, you might be asking for a different armor set to be spawned for you. The one thing that may be altered are exoskeletons, so don't be surprised about that.
Q
: What if I don't want the server to end?
A
: ... I don't know how to answer that, man.
Q
: Will RRs involving Terminator happen down the line? Will there be other severs involving Terminator in general?
A
:

Ask any other questions below!
Last edited: