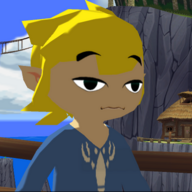 speak into the shell
Senior Executive Administrator
New leadership
So yeah. I've never been good at big long posts, but anything less won't do this any justice. Here we go.
As you've probably seen on the
roster
by now, Dave is moving down to RDA and I'm taking up the mantle of TnB's leadership.
To some of you this might come as a bit of a shock. Others may have wondered why it's taken this long for the torch to be passed.
It's no secret that he's gradually become less and less involved with the community over the last couple of years. Real-life responsibilities sometimes get in the way, and being a parent is one of the biggest of them all. Understandably, this has prevented him from dedicating anywhere near the amount of time and energy required to run a community and this won't change any time soon.
Bennet, Sky and I have been talking about this for a long time, and we all agree that we simply cannot continue to run this community in a half-baked manner, essentially without the capability of making large decisions or financial investments into new developers and other important resources this community desperately needs.
I've brought this to Dave and he's agreed it's time to pass the torch. As much as he'd like to, he simply is not in any position to dedicate any time to taking charge of this community.
Dave and I have agreed that he'll stay rostered as an RDA. When he's ready to come back, he'll still have complete freedom to pursue his ideas. I think all of us can agree that few can match the charm of his shenanigans, not to mention the interesting settings he's helped come up with over the years.
On behalf of the team I'd like to thank Dave for his massive contributions to TnB. This place certainly would not have been around long were it not for his dedication, especially in its early formative years.
TnB has for better or worse been a big part of my life and I'm sure many of you share this sentiment. Some of my fondest memories of this place are from Dave's crazy events, the late night DayZ sessions, the free-for-all supreme commander games (where he'd fight all of us at once) and the ridiculous characters he'd sometimes come up with.
TnB's legacy as one of the first and biggest innovators in HL2RP (and gmod RP in general) is undeniable, and without him this likely would not have come to pass.
Our future
I think it's no secret that TnB is no longer the community everyone tries to copy like it used to be. While we've always had something others don't, we haven't been innovating nearly as much as we could be.
With Drew's departure some might be worried about our development resources and our ability to continue forward, so I thought I'd address those concerns head on.
I suppose I may as well start with the biggest news: I've been talking to Tank in the past couple of months and he is willing to rejoin the development team and help out in our future projects. This will be a massive help in our efforts to modernize and provide an engaging experience for all.
Along with this, I'm currently in talks with other developers who have expressed interest and will continue to try and expand our team with the resources it needs. Expect more news on that in the future.
Our current iteration of HL2 is on its way out, yes. Some might see this as bad news, but as someone who has always primarily been an HL2 player I am confident that it's the right call and crucial to the server's health in the long run. HL2 will return, and with the resources we're hoping to invest I'm certain that it will return better than ever.
With all that said, I've got some pretty big shoes to fill. I'm confident the RDA's and I can give this community the direction it needs, and work out the internal issues that have plagued us for so long.
Please don't hesitate to approach me with any questions you might have, and know that I'll be doing my utmost to work with the entire admin team so that we can make this a place all of us are proud to be a part of.
Here's to many more years.